---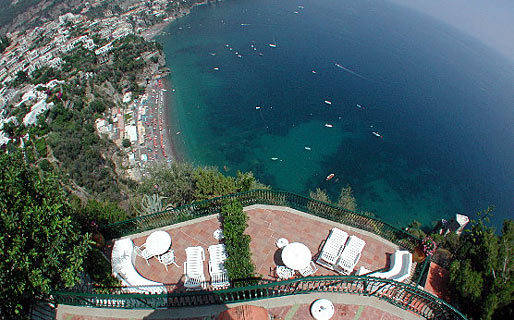 If you're looking for a peaceful, sea-edge location in one of Italy's most sought-after holiday destinations, you'll love Positano's Villa Hibiscus! Just far enough away from the historic center to miss the crowds, and yet within minutes of all the town's most fashionable beaches, Villa Hibiscus is a paradise in paradise.
Villa Hibiscus provides luxury self-catering accommodation in 3, two or four bed apartments. Typical of the Amalfi Coast's elegant seafront homes, the Villa's rooms are filled with the light pouring in through large windows, through all of which magnificent views of the sea surrounding Positano can be seen.
All apartments are stylishly furnished in classic Italian style and equipped with every modern comfort, from air conditioning to satellite television and CD/DVD players. Kitchens are fitted with a full range of domestic appliances. The two larger apartments each has its own swimming pool.
Guests staying at Villa Hibiscus spend much of their time on the residence's private beach, which can be quickly accessed via elevator. Those keen to admire the wonders of the Amalfi Coast from the sea, can rent a boat, with or without crew, with which to sail around the nearby Li Galli archipelago and perhaps visit the fascinating Grotta dello Smeraldo!
Perched on the cliff tops, directly above the sea lapping the shores of Positano, Villa Hibiscus is the kind of stuff dream holidays on the Amalfi Coast are made of. Ideal location for an Italian seaside holiday you'll never forget, Villa Hibiscus lies within easy reach of Positano's Spiaggia Grande and Fornillo beaches, and the pretty little coastal towns Amalfi, Praiano, Furore, Minori and Maiori. The beautiful islets of the Li Galli archipelago are only a short boat ride away.
Villa Hibiscus
Villas
Via Marconi, 127 - 84017 Positano (Salerno)
Phone +39 089 875779
Fax +39 089 875965
Booking
or please call the hotel
+39 089 875779
Leisure
Private beach (accessed by lift)
Swimming pools (largest apartments)
Accommodation
Air conditioning
Heating
Satellite television
Minibar
CD/DVD player
On request
Charters, transfers, excursions
Car, motorbike, bike rental
Boat and dinghy hire
Additional cleaning