---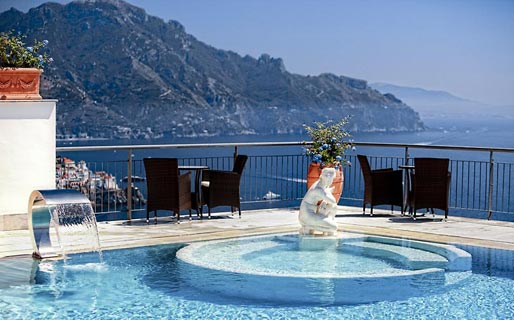 Hotel Villa Felice Relais is situated in a wonderfully peaceful location, on a promontory ''overlooking the age old town of Amalfi, one time capital of Southern Italy's great maritime Republic. The villa, once the elegant residence of the Porpora Anastasio family, was transformed in hotel in the 1990's following extensive restoration and renovation work aimed at both conserving all the original features of the building whilst allowing for the addition of all modern-day comforts'''.
The lobby and drawing rooms are still adorned with the furnishings and valuable artworks left by the past inhabitants. The spacious and tastefully appointed guest rooms, some of which with terrace and solarium, all afford stunning sea views. Located on the terraces of the villa, the hotel's panoramic restaurant serves delicious local cuisine, prepared with the Amalfi Coast's abundant fish, and incredibly sweet, sun-ripened fruit and vegetables.
Guests sojourning at the Hotel Villa Felice Relais are granted access to a charming private beach, situated just minutes away from the property. The hotel provides free car transportation to the beach and to the center of Amalfi. This convenient shuttle service has the added bonus of being available 24hrs a day.
For those wishing to explore more of the Amalfi Coast, the staff of Hotel Villa Felice Relais will be pleased to reserve guided tours of the towns of Positano, Ravello and Praiano, or even further a field to the sites of Pompei, Mount Vesuvius, Paestum, the historic city of Naples and the island of Capri.
Hotel Villa Felice Relais is situated on the hillside above the town of Amalfi, an ancient maritime republic which, over the centuries, has become one of the worlds most sought after tourist destinations.
As they wander through the maze of little lanes which characterize the historic center, visitors soon come across the steep flight of steps leading to the towns impressive Cathedral of St Andrew. The Arsenals of the Maritime Republic and the Paper Museum, in the the Valle dei Mulini, are more than worthy of visit.
Villa Felice Relais
3 stars
Via Salita Tuoro, 10 - 84011 Amalfi (Salerno)
Phone +39 089 831946
Fax +39 089 832914
Low season
Middle Season
High season
Bed & breakfast
Bed & breakfast
Bed & breakfast
Standard Double room
(rate per person)
€ 35,00
€ 55,00
€ 65,00
Superior Double room
(rate per person)
€ 50,00
€ 65,00
€ 80,00
Deluxe Double room
(rate per person)
€ 65,00
€ 85,00
€ 110,00
Rates are per person, per night including breakfast, taxes and service.
Low Season: from January 7th to March 31st and from November 1st to December 21st .
Medium Season: from April 1st to May 31st and from October 1st to 31st .
High Season: from June 1st to September 30th and from December 22nd to 31st .
Booking
or please call the hotel
+39 089 831946
Food and Drink
Restaurant with sea view terrace
Snack Bar
Leisure
Accommodation
Air conditioning
Safety deposit box
Sky Tv
Minibar
Telephone
Hydromassage tub (some rooms)
Miscellaneous
Internet point/Wi-Fi
Car park
Laundry service
Beach
Library
Excursions
Shuttle service
Baby sitter (on request)