---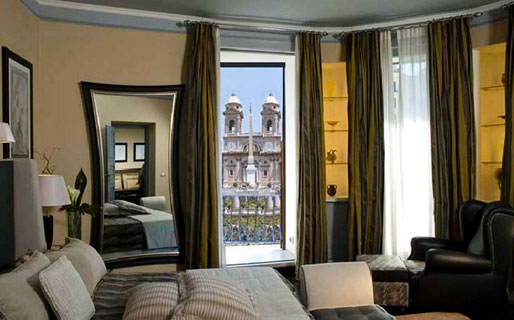 Just steps away from Rome's legendary Piazza di Spagna, the Inn & View at the Spanish Steps boasts a superb location on Via Condotti, the city's most elegant shopping street, a street lined with exclusive boutiques where to purchase all those so very desirable Italian designer fashions and accessories. The Inn & View at the Spanish Steps is a delightfully intimate hotel, which might easily be described as a luxury guest house, where clients are given the warmest of welcomes and awarded the highest levels of service throughout their sojourn.
The hotel's prime position means it is within easy reach of all Rome's principal sites of historic and artistic interest. From the roof garden guests enjoy a magnificent view of the Spanish Steps, and the domes and rooftops which characterise the skyline of Italy's capital city. The choice of eateries in the area is excellent, ranging from traditional family run "trattoria" to elegant gourmet restaurants and fashionable bars.

The Inn & View at the Spanish Steps offers beautifully furnished accommodation in one and two bedded suites, each of which opens out on to two small balconies. For those looking for additional luxury, there is the hotel's spacious Penthouse suite. The Inn's panoramic terrace provides an idyllic venue where to relax over an aperitif or after-dinner drink.
The Inn & the View at the Spanish Steps, on Via dei Condotti, has been custom-designed for holidaymakers looking for an exclusive hideaway in the historic center of Rome, within meters of Piazza di Spagna and Italy's most famous flight of steps.
Booking
or please call the hotel
+39 06 69925657
The Inn & the View at the Spanish Steps
Services
Food and drink
Rooftop Terrace Caffè
Buffet Breakfast (from 6.45 to 10.30)
Snack (from 17.00 to 20.00)
Leisure
Accommodation
Air conditioning
Wi-Fi
iPod dock station
High speed Internet connection
Satellite television
Sky channel
Wardrobe
Marble bathrooms
Jacuzzi
Hairdryer
Mini bar
Safety deposit box
Antiallergenic pillows
Miscellaneous
Computer at the Front Desk
Room service
Laundry
Limousine service
Concierge 24hrs
Tour Desk 24hrs
On request
Personal chef
Personal shopper
Hair dresser
Massages
Baby Sitting
Private butler
In Room Nespresso
Pillow menu