---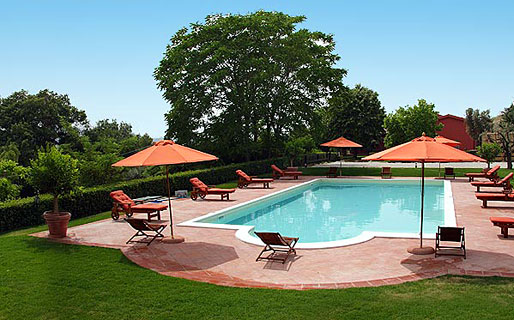 Between the hills of Teramo and the sandy beaches which cushion the jagged Adriatic coastline; with views over a landscape encompassing the dizzyingly high slopes of the Gran Sasso mountain range and downwards all the way to the sea, the Scuderie delle Civita is the perfect place where to enjoy a relaxing vacation in close contact with nature.
This charming country residence is comprised of two elegant buildings, transformed in stylish and tastefully furnished holiday apartments. Guests' comfort and privacy are guaranteed in these independent units, fitted with every modern amenity.
A swimming pool is located in the extensive gardens of the residence, offering an ideal place where to relax and enjoy the sunshine whilst admiring the surrounding countryside.
From the Scuderie della Civita', the mountains and National Park of the Gran Sasso are just a short drive away; ideal territory for trekking, mountaineering or more relaxing pursuits such as bird watching. Closer still are the sandy beaches of the Abruzzo coast, where to partake in any number of water sports or simply bathe in the glorious Italian sun.
Not to be missed; a morning or even a whole day spent exploring the towns in the area, such as the medieval village of Civitella del Tronto or the magnificent city of Ascoli Piceno.
From the Scuderie della Civita a magnificent view can be enjoyed, a view which extends from the slopes of the Gran Sasso to the beaches of the Adriatic coast (just 3kms away).
For those traveling by car, the villa is a 5 minute drive from the Val Vibrata - San Benedetto del Tronto exit. The closest airports are those of Pescara (50km), Ancona (90km) and Rome (195km). The nearest railway stations are located in San Benedetto del Tronto and Alba Adriatica.
Booking
or please call the hotel
+39 0861 700255
Scuderie della Civita
Services
Food and drink
Leisure
Swimming pool
Garden
Country estate (4 hectares)
Accomodation
Kitchenette
LCD television
DVD player
Sitting room with sofa bed