---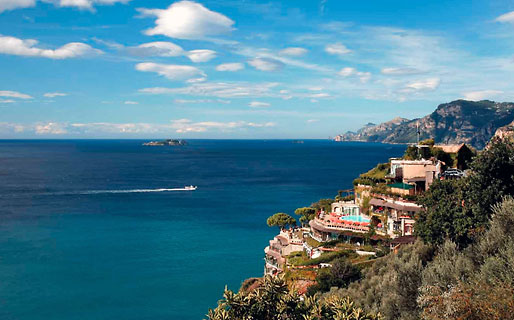 A true masterpiece of architectural ingenuity and engineering dexterity, the Hotel Il San Pietro has been carved out of the enormous jagged cliffs which characterise Italy's Amalfi Coast. Surrounded by land and seascapes of unique beauty, the hotel's terraces offer endless views of the sea of Positano and the imposing Lattari Mountains. Guests staying at the Hotel Il San Pietro sojourn in luxuriously appointed bedrooms, all of which leading out on to its own private terrace or balcony overlooking the sea.
Bright, sunny and Mediterranean, the terraces of Il San Pietro are ideal places where to relax and enjoy the scenery. From the main terrace, magnificent views of Positano, Praiano, Li Galli and the Coast as far as the Faraglioni Rocks of Capri can be seen.
Hotel Il San Pietro's Michelin Star restaurant is one of Southern Italy's most highly acclaimed eateries, where to enjoy beautifully presented, seasonal cuisine and an excellent selection of wines in one of the world's most romantic settings.
A quiet natural cove with crystal waters, Hotel Il San Pietro's exclusive beach, is a veritable paradise for those who love the sea. Accessed directly from the hotel lobby, by way of a lift carved in to the rock face, the beach is the the perfect spot where to sunbathe, partake in a cocktail at the bar, and stroll by the water's edge' in total privacy.
Il San Pietro di Positano is a luxury hotel just 2kms from the center of Positano, the picturesque town located on the Amalfi Coast which, with its enchanting position, and delightful little houses clinging to the rock face, represents the epitome of Mediterranean charm.
Queen of the Amalfi Coast, Positano is an ideal base from where to head towards the other important towns of the coast, such as Amalfi and Ravello. A free 24hr shuttle service accompanies guests to and from Positano.
Booking
or please call the hotel
+39 089 875455
Il San Pietro di Positano
Services
Restaurant & Bar
Leisure
Outdoor Swimming pool
Private Beach
Wellness and sport
Spa
Fitness Centre
Tennis
Accommodation
Private terrace with sea view
Room Service
Mini Bar
Modem Jack
TV Satellite
Safe Deposit Box
Jacuzzi
Hairdryer
Newspaper
Miscellaneaous
Concierge Level
Free Parking