---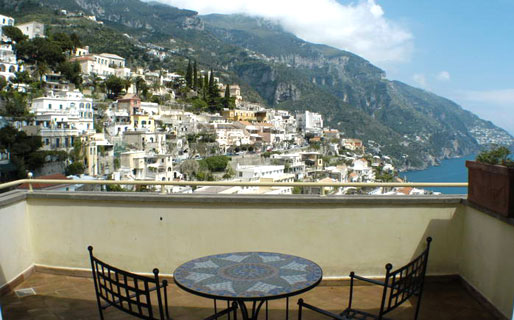 Hotel Posa Posa is a long-established hotel situated in the heart of Positano, on Italy's celebrated Amalfi Coast.
This historic four star hotel provides attractive guest accommodation in individually appointed bedrooms and suites, all of which with their own balcony or terrace overlooking the picturesque little streets of Positano and the sea.
Superb Mediterranean cuisine is served to guests dining at Hotel Posa Posa's fourth floor restaurant. The Mirage restaurant's sea-view terrace is a delightful venue for al fresco dining and a much requested location for wedding receptions. A combination of relaxing music and fine wines awaits guests heading to the hotel's popular wine bar.
Other facilities available to guests include a fabulous solarium, on the seventh floor of the hotel, a gym, internet point and small meeting room.
The beach and sea are within easy walking distance of the hotel, by way of a downhill stroll through enchanting little streets lined with Positano's fashionable boutiques and bars. From Spiaggia Grande, boats head to all the principal destinations of the Bay of Naples and the Amalfi Coast and to the nearby islands of Li Galli.
The Hotel Posa Posa is located in the center of Positano, Via Pasitea 165. In a few minutes you can reach the beach of Positano. From Positano, all the other other beautiful towns of the Amalfi Coast such as Praiano, Furore, Conca dei Marini and Amalfi, are just a short drive or bus ride away.
Hotel Posa Posa
4 stars
Via Pasitea, 165 - 84017 Positano (Salerno)
Phone +39 089 812 2377
Fax +39 089 812 2089
Booking
or please call the hotel
+39 089 812 2377
Bar and Restaurants
Mirage Restaurant
Wine Bar
Leisure
Solarium
Gym
Terrace
Internet point
Events
Rooms
Air conditioning
Heating
Satellite TV
Minibar
En-suite bathrooms with shower or jacuzzi
Hairdryer
Balcony or terrace (Suites and Junior Suite)