---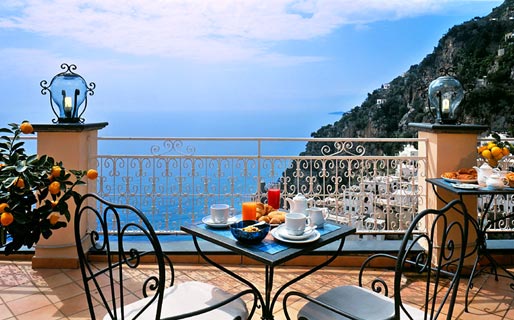 Positano Art Hotel Pasitea occupies a central position in the town of Positano, one of the Amalfi Coast's most sought after holiday destinations.
The hotel has been built in typical Positano style, featuring a series of gentle arches and sunny terraces from where to admire a stunning view of the shimmering Mediterranean sea which laps what many consider to be Italy's most beautiful stretch of coast.
The interiors of the hotel offer a stylish combination of contemporary design and traditional decor, the functional modern furnishings perfectly complimenting the exquisite majolica floor tiles manufactured in the nearby town of Vietri.
Each and every bedroom opens out on to a terrace offering a unique view of Positano. Positano Art Hotel Pasitea's suites have been created so as to offer the maximum in luxury. The Premium suites feature a hydromassage tub in which to relax whilst admiring a marvellous view of the sea.
Hotel Pasitea offers its clients the opportunity to experience the many gastronomic delights for which the Amalfi Coast and the Campania region are famous, from the sumptuous breakfast buffet of Neapolitan pastries, regional cheeses and cold meats, to the many local delicacies served in the hotel's Bruschetteria Cafè, such as the mozzarella of Agerola and the tuna fish of Cetrara.
Positano Art Hotel Pasitea boasts a well equipped function room suitable for small scale corporate meetings and events.
Positano Art Hotel Pasitea is situated in Positano, one of the most enchanting town's on Italy's Amalfi Coast. Resting on a spur of rock, directly above the sea, the hotel is blessed with breathtakingly panoramic views over both the sea and Positano's picturesque town center.
'
''Positano, a famous bathing resort, together with Amalfi and Ravello, is one of the most sought-after holiday destinations on the Amalfi Coast. From here, in just a few minutes, travellers quickly reach other beautiful little towns such as Furore, Praiano, and Atrani. Pompei and Herculaneum, the Park of Vesuvius, and the city of Naples''' are all no more than an hour's drive away.
Positano Art Hotel Pasitea
4 stars
Via Pasitea, 207 - 84017 Positano (Salerno)
Phone +39 089 875500
Fax +39 089 875120
Booking
or please call the hotel
+39 089 875500
Food & Drink
Bruschetteria Cafè
Buffet breakfast
Rooms
Air conditioning
Tv LCD satellite
Hairdyer
Internet ADSL
Suites with Jacuzzi
Events
Miscellaneous
Baby sitting
Transfers service
Car rentals
Tour and excursion
Major credit card