---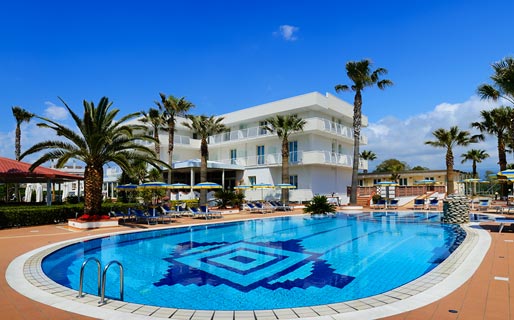 Hotel Olimpico is a charming seafront hotel, located in Pontecagnano, on the picturesque stretch of coast between the Cilento and Amalfi Coast. This superbly appointed hotel has spacious bedrooms and suites all of which offer the maximum in comfort and the very latest in communication technology, including free wireless internet connectivity. Rooms enjoy views of the sea or the gardens of the hotel. Upper floor Superior rooms and Suites have the additional appeal of an attractive balcony or furnished terrace.
Hotel Olimpico is a peaceful, family orientated establishment, equipped with excellent facilities for children including a play area situated in the inner garden. A large swimming pool, solarium, bowling green, and tennis court are all available free of charge to hotel guests. Just 50 meters away from the hotel, the Olimpico's private beach is equipped with beach umbrellas, deck chairs, sun-loungers, hot showers, and changing rooms.
The Cilento area is renowned for its excellent cuisine, and Hotel Olimpico's restaurant is the perfect place where to enjoy the traditional recipes of the region. A generous buffet breakfast greets guests each morning. The staff of Hotel Olimpico will be pleased to assist guests interested in booking excursions to the archaeological sites of Paestum, Herculaneum and Pompei, or any of the enchanting towns dotted along the Amalfi Coast.
Hotel Olimpico

Special offers

Special vacation package on the Amalfi Coast "Early booking discount save up 20% ! " Hotel Olimpico offers you very special rates booking in advance on line. Check the availability of EARLY BOOKING RATES with 20% of discount on our official rates. Check our official web site www.hotelolimpico.it and book on...
Hotel Olimpico is situated on the Strada Litoranea of Pontecagnano which hugs the coastline of the Gulf of Salerno, between the Amalfi and Cilento coasts. For those travelling by train, the nearest railway station is that of Salerno from where guests are offered a free shuttle service to the hotel (applicable to stays of minimum 2 nights and on arrival only). Transfers can be arranged for those clients arriving at Naples Capodichino International Airport.
Coordinates for satellite navigation systems: SP 175 or Via Lago Trasimeno, town: Pontecagnano, province: Salerno. GPS N40°35 53" E14°52'09".
Hotel Olimpico
4 stars
Litoranea di Pontecagnano - 84098 Pontecagnano (Salerno)
Phone +39 089 203004
Fax +39 089 203458
Booking
Restaurant and bar
Swimming pool
Hydromassage
Garden and solarium
Private Beach
Rooms equipped with
Acclimatization system,
Wireless internet connection
Satellite television
Hairdryer
Electronic safety box
Furnished terrace
Superior rooms and Suite
equipped with
Minibbar
Radio
Children's activity area
Tennis court
Bowling
Ping pong
Large car park