---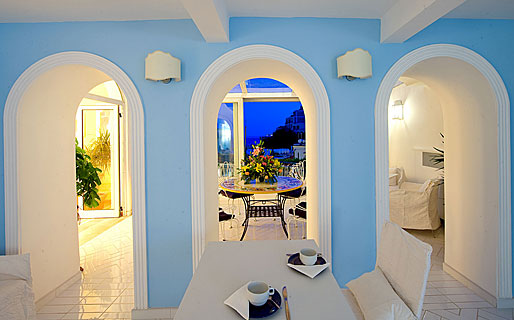 A small and welcoming family-run hotel, La Bougainville is situated right in the heart of Positano, amidst the maze of narrow lanes, steep flights of steps, and hidden alleyways which characterise the historic center of this, one of the most-loved towns on Italy's Amalfi Coast. A mere 5 minute walk divides the hotel from the sea and the beaches of Positano.
The sunny, Mediterranean-style interiors of the bedrooms are refreshingly simple: decorated with the fabulously bright colors and floors in majolica typical of the area. Recent renovation work has allowed for the upgrading of services and the incorporation of the latest in modern technology, including wireless internet connectivity. A few bedrooms offer guests the additional bonus of a private sea view balcony.
Hotel La Bougainville has a delightful little dining room where to enjoy a welcoming breakfast before heading to the beach or any of the famous towns dotted along the Amalfi Coast.
Hotel Bougainville is situated in the heart of Positano, among the picturesque lanes of the historic center of this, one of the Amalfi Coast's most loved towns. The hotel is positioned just 5 minutes away from the sea and beach. Positano is an excellent base from where to explore the Amalfi Coast. The towns of Praiano, Furore, Conca dei Marmi, Amalfi and Ravello are, in fact, all within easy driving distance.
Hotel La Bougainville
3 stars
Via Cristoforo Colombo, 25 - 84017 Positano (Salerno)
Phone +39 089 875047
Fax +39 089 811150
Booking
or please call the hotel
+39 089 875047
Breakfast room
Rooms with
Air conditioning
Internet wifi
Satellite TV
Safety deposit box
Electronic key
Mini bar
Telephone
Private bathroom