---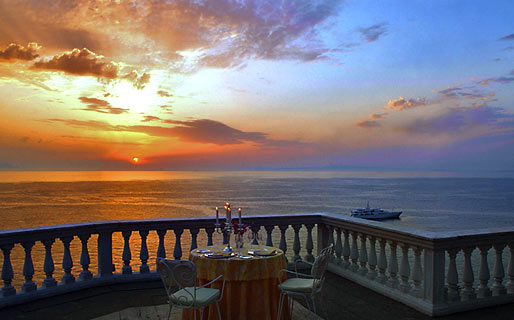 The Grand Hotel Cocumella is a fascinating historic hotel close to Sorrento, immersed in a magnificent coastal estate which stretches over a vast expanse of Mediterranean parkland before descending the slopes and resting at the waters edge.

The wonderfully romantic guestrooms and suites of the Grand Hotel Cocumella are luxuriously appointed with beautiful textiles, items of antique furniture and rare artworks.

The Grand Hotel Cocumella's supremely elegant "Scintilla" restaurant provides a marvellous setting where to experience the very finest Mediterranean and international cuisine and an excellent selection of wines. During the long summer season, guests may choose to spend the lunch at the poolside restaurant Agrumeto and at the "Coku" a "Robata" grill fusion restaurant and cocktail bar on the terrace overlooking the Gulf of Naples and Mount Vesuvius.
A great number of rare botanical species and an ancient citrus grove can be found in the Grand Hotel Cocumella's centuries-old park, as well as a tennis court, Olympic-size swimming pool and open air restaurant. An elevator transports guests to the hotel's private beach, complete with furnished solarium and private jetty.
For those wishing to host an important business meeting of corporate event in this unique establishment, the Grand Hotel Cocumella provides 5 well equipped conference rooms with a seating capacity for as many as 500 participants.
Grand Hotel Cocumella

Special offers

early booking 10% discount for bookings made at least 30 days in advance, a non refundable full pre-payment is required upon confirmation
Stay 7 nights and pay for 6 nights For a minimum of 7 nights stay 1 night is complimentary
Grand Hotel Cocumella is located in Sorrento, surrounded by magnificent sub tropical gardens from where spectacular views of the Bay of Naples can be seen.
The hotel is the ideal base for those wishing to visit Sorrento and the other towns on the Sorrentine peninsula, the archeological sites of Pompei and Herculaneum, the National Park of Vesuvius and the Amalfi Coast'''.
Grand Hotel Cocumella
5 stars
Via Cocumella 7 - 80065 Sorrento (Napoli)
Phone +39 081 8782933
Fax +39 081 8783712
Low season
High season
Peak season
Room and breakfast
Room and breakfast
Room and breakfast
Standard double room
Standard double room
€ 295,00
€ 390,00
€ 395,00
Deluxe double room
Deluxe double room
€ 355,00
€ 460,00
€ 470,00
Junior suite garden view
Junior suite garden view
€ 475,00
€ 600,00
€ 650,00
Junior Suite sea view
Junior Suite sea view
€ 595,00
€ 750,00
€ 800,00
Suite garden view
Suite garden view
€ 675,00
€ 880,00
€ 895,00
Suite sea view
Suite sea view
€ 785,00
€ 1.000,00
€ 1.100,00
Extra bed

€ 105,00
€ 120,00
€ 120,00
The rates are per room, per day, inclusive of continental buffet breakfast, vat tax and service, city-tax not included (2,00 euros per person, per day)
High season: from May 15th to 24th July included and from 21st August to September 30th included.
Peak season: from 25th July to 20th August included
Low season: all other periods
Cancellation policy: 10 days.
Children are welcome from 8 years
Booking
or please call the hotel
+39 081 8782933
Restaurants and Bars
"Scintilla" restaurant
"Agrumeto" restaurant
"Coku", Robata grill fusion restaurant
Cocktail bar terrace
Leisure
Park and gardens
Swimming pool
Solarium
Private beach
Wellness
Events
Miscellaneous
Tennis Court
30mt sail boat