---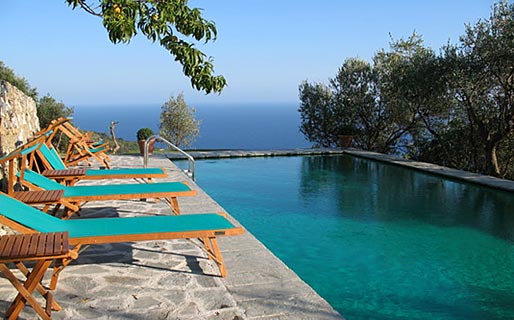 Perched on lush green hillside just a few kilometers above the town of Monterosso, gazing out across the fairytale landscape of the Cinque Terre and beyond towards the shimmering blue Ligurian Sea, one finds the 13th century Eremo di Santa Maria Maddalena (Hermitage of Saint Mary Magdalene): recently restored and transformed in one of the finest and most authentic historical residences in the region.
The villa provides self catering holiday accommodation, weekly stay is required (starting from Saturday) and it is not available for partial rent.
The ancient ermitage is comprised of two principal buildings; a single nave church and a monastery connected the one to the other by a beautiful red brick cloister with semicircular arches resting on slender columns.
The earliest existing documentation concerning the site dates back to 1244, the year when the complex became home to a community of Benedictine monks depending on the monastery of St. Gerolamo della Cervara in Portofino.
The villa of the Eremo di Santa Maria Maddalena is built up over three floors. On the ground floor there is a comfortable sitting room with large open fireplace, two bedrooms, study, bathroom, and kitchen.
A large terrace provides a delightful suntrap where to bask in the sunshine. The medieval cloister transforms in quite unique and refreshingly cool outside dining venue where to eat in the hot summer months.

On the first floor there are two bedrooms, a living area and dining room with views out over a garden shaded by century-old olive trees. On the second and highest floor there are an additional two double bedrooms, a bathroom with shower, and a generously sized storage room. The villa provides a total of six bedrooms.
Guests staying at the Eremo di Santa Maria Maddalena enjoy the use of an attractive swimming pool set in the gardens, from where to admire a breathtaking view of the sea.
The villa is available for weekly rental.
The Eremo di Santa Maria Maddalena (Hermitage of S. M. Maddalena) is situated in the hills looking out towards the sea of Cinque Terre, just above the town of Monterosso. La Spezia, Levanto and Vernazza are all just a short, and incredibly scenic. car ride away.
Eremo di S. M. Maddalena
Historical Residences
LocalitÓ Maddalena - 19016 Monterosso al Mare (La Spezia)

Fax +39 02 7561050
Mobile +39 335 7851598
Booking
Leisure
Garden
Panoramic swimming pool
Villa
Self catering holiday accommodation
No partial rental
Only weekly stay (from Saturday)
Total 6 bedrooms
Free Wi-fi internet
Washing machine
Dishwasher
Microwave
Refrigerator
Iron
Telephone
Satellite television
Bed linen
Bathroom towels
On request
Evening meals
Parking in Monterosso