---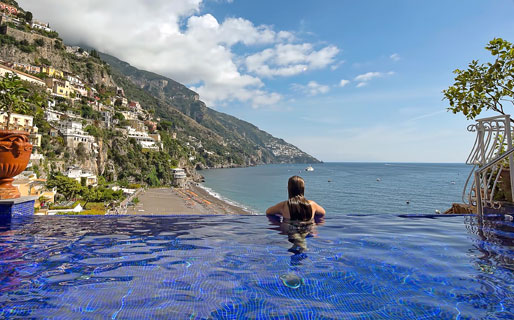 Hotel Covo dei Saraceni occupies a wonderful position in Positano, one of the most sought after locations on Italy's legendary Amalfi Coast. The centuries old charm of a town which so enamoured the first tourists to visit the Amalfi Coast at the start of the 19th century, can still be experienced today: whilst strolling through the narrow lanes lined with the cobbler's workshops and tailor's studios where the celebrated Moda Positano was first produced, or climbing down the steep flights of steps which lead to the sea.

Guests staying at Hotel Covo dei Saraceni sojourn in bright, light-filled bedrooms adorned with terracotta paving tiles and beautiful items of hand crafted wooden furniture. Glorious sea views can be admired from each and every room.
The abundant breakfast buffet served in the dining room named after the wonderful bougainvillea plant which fills the ambience with the color and scent of its flowers, is well worth waking up for. Hotel Covo dei Saraceni's Savino Restaurant is the ideal place where to savour the wonderful fish and seafood for which Positano and the Amalfi Coast are famous, but also home made pasta, deliciously tempting desserts, and a fine selection of wines.
On the highest floor of the hotel there is snack bar and a swimming pool from where to enjoy stunning views out across Positano, the Amalfi Coast, and the shimmering waters of the Mediterranean sea.
Hotel Covo dei Saraceni overlooks the beach of Positano and is within easy driving distance of all the most celebrated destinations on the Amalfi Coast, including Amalfi, Furore, Ravello, and Atrani. The archeological sites of Pompei, Herculaneum and Paestum, Mount Vesuvius and the city of Naples are all no more than an hour's drive away.
Covo dei Saraceni
5 stars
Via Regina Giovanna, 5 - 84017 Positano (Salerno)
Phone +39 089 875 400
Fax +39 089 875 878
Booking
or please call the hotel
+39 089 875 400
Restaurants and bars
Restautant Savino
Lobby bar
Bougainville Salon
Pool Snack Bar
Leisure
Rooms
Double Room
Junior Suite (balcony)
Junior Suite (terrace)
Deluxe Junior Suite