---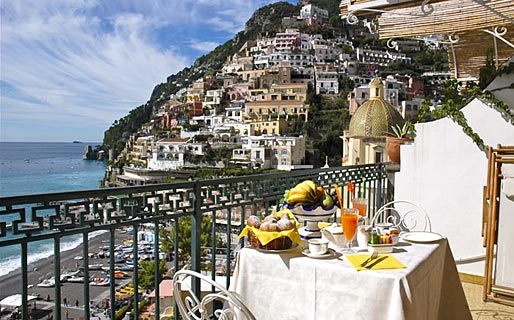 One of the oldest establishments in Positano, Hotel Buca di Bacco has been providing heart-felt hospitality to holiday makers visiting this charming little town on the Amalfi Coast, since the start of the 20th century.
Buca di Bacco (the "Tavern of Bacchus") first opened its doors as a hostelry, a watering hole which, in no time at all, was to become a favourite haunt of the many artists and intellectuals sojourning in Positano.
Over the years, Buca di Bacco has changed considerably; and from modest tavern has been transformed in delightful family-run hotel, where to sojourn in tastefully furnished rooms and enjoy some of the best food in the whole of Positano. What has remained unaltered is the owner's enthusiasm and desire to make all guests feel completely at home.
The hotel's 47 bedrooms, almost all of which with balcony or sea view terrace, are decorated in classic Mediterranean style, inspired by the elegant patrician villas typical of the Amalfi Coast.
In the kitchen where, once upon a time, the proprietor's grandparents might easily have been found whipping up their local specialities for the tourists visiting Positano and the Amalfi Coast, today Anna and Carla continue to prepare the very same flavour-packed Mediterranean dishes for which Buca di Bacco first became famous. Those keen to learn more about the area's delicious cuisine, can join one of the hotel's entertaining cooking classes.
'Hotel Buca di Bacco is a historic hotel in the town of Positano, right at the start of the Amalfi Coast. Blessed with splendid beaches, lapped by a crystal clear sea, Positano is famous for its maze of brightly colored cottages and pretty churches, all of which cling to the rock face, forming what is often referred to as the vertical city. Providing an ideal base from where to explore the other towns on the Amalfi Coast, Hotel Buca di Bacco lies within easy reach of Praiano, Furore, Maiori, Minori, Conca dei Marini and Amalfi, all of which are just a short car or boat ride away.
Buca di Bacco
4 stars
Via Rampa Teglia, 4 - 84017 Positano (Salerno)
Phone +39 089 875699
Fax +39 089 875731
Booking
or please call the hotel
+39 089 875699
Bar and Restaurant
Restaurant Buca di Bacco
Bar
Leisure
Panoramic terrace
Solarium
Rooms
Air conditioning
Satellite TV with Sky
Mini bar
Safety deposit box
Hair dryer
Miscellaneous
Concierge 24/24
Free Wi-Fi internet
Internet point
Laundry (off site)
Pressing room
Beach towels
On request
Babysitter
Cooking classes
Individual and group excursions
Scooter, car and boat rental